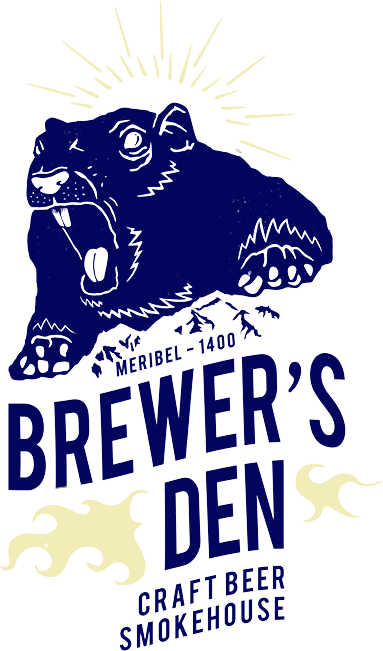 Meribel's Craft Beer bar, BBQ and Smokehouse
Born out of a love for all things beer and BBQ, The Brewer's Den, bar & smokehouse restaurant in Meribel, has rapidly become a landmark.
Locally sourced, slow-cooked and smoked to perfection. Our 'fall off the bone and into your mouth' ribs, our signature burgers and our infamous homemade sauces are just some of the reasons why we are the home to the best and tastiest meat in Meribel!
Come on down we're smoking!
BEER
Whether you're an amateur, connoisseur or a down right addict of beer, we have hunted down, tested, and tested again 😉 the very best that Europe has to offer!
Enjoy a pint (or two) after a hard day on the hill. We have created a bespoke menu full of flavour that will tantalise your taste buds and get you dancing on our tables in no time!
If beer is not your 'thing' no sweat! Our well chosen wine menu, topped off by our signature cocktails will guarantee you a night or nights to remember!
BBQ
As the saying goes "good things come to those who wait" which is why we do the waiting and take our time to slowly smoke our meat to perfection.
Locally sourced, smoked in-house, we even pickle our own pickles. Taste and quality is our ethos.
Not a carnivore? No worries. We are the Mac Daddys when it comes to Mac'n'cheese… and even more.
Here at the Smokehouse we offer a unique dining experience, so come on down, sample our menu and treat your taste buds!
EVENTS : WHAT'S NEW AT THE BREWER'S DEN